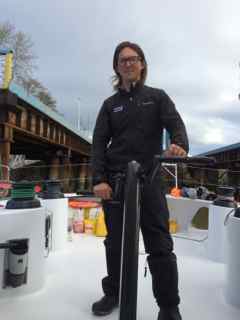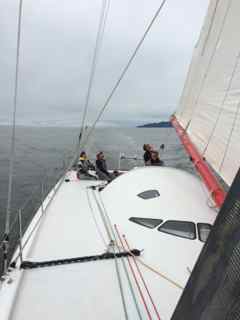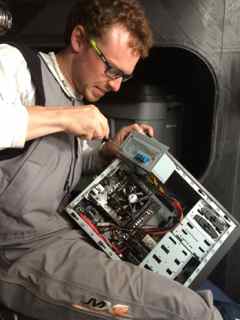 I arrived in Vancouver late Friday.  Eric has things well in hand here.  The boat was ready to sail.

We had to wait until 11 am for high tide to leave Shelter Island Marina.  It was about a 2.5 hour motor out to deeper water. It took 3 young guys and one moderately aged fellow (me) to raise the main and we were off.

Eric is very composed and organized.  His quiet style of leadership is very impressive. 

The wind was light but Eric did not let that slow him down.  We flew the Solent and raised the storm jib and the staysail so he could see how it all fit together and it kept the young people busy.  Apparently they have now worked for 33 days straight.  No signs of anyone losing interest.  He has assembled a great team who are thrilled to be involved.  None of them are getting paid for all this but they are having the time of their life and learning a terrific amount about more than just sailing - which is usually the case with sailing:) 

Morgen Watson, who Eric sailed with in the Clipper Race is a very capable guy.  He does not have much sailing experience, although many more ocean miles than I do.  Eric's confidence in him is high and I can see why.  He is thoughtful, methodical and asks questions when he doesn't know.  He's also has a strong back.  
Team Member, Meg Reilly is also here.  She is an experience offshore sailor herself having been part of the Holden Crew for the winning team in the Clipper Race.  Meg is doing amazing work on the marketing side – sometimes a thankless job.  She has several years experience in the marketing field working at Y&R in New York City.  I am told that it is one of the largest and most well regarded marketing firms in the world.  Lots of irons in the fire but not much money yet.
Sandy MacPherson is a real gem.  I had never met him but he is from Prince Edward County and went to University in Plymouth England to do a degree Navigation and Maritime Science. He has done some Mini sailing in the UK and all this at age 21.  He's a big guy and great as a grinding partner although he faded a little faster than what I recall of Tyler Bjorn from 2011:)  Old Guys Rule J

Tristan Perry is shown in the attached photo working on the film computer which will capture footage from the built-in cameras.  It had a blown fuse so we are not sure yet if it still works.  Tristan will not be on the delivery but has been involved doing all the photography and video.  There is a lot of  terrific video footage and still photos. Have a look at the 15 second daily reports on their You Tube Channel.
https://www.youtube.com/channel/UCoLRFfPRkAsrJn0OywipaAw
Tristan has a lot of experience with this as he was one of the embeded photo-journalists during the Clipper races.  He is very tech savvy and creative.  
Two other crew will arrive in the next week.  Liam Johnston has a degree in Naval Architecture and hails from Whitehorse. – that's what it says on his passportJ

Its a truly national effort.  One of the other crew, Andrew Deganais-Gaw is from Halifax.  So we have British Columbia  Alberta, Ontario, Nova Scotia and the Yukon represented.  These last two sailors were selected from about 40 applicants from across the country. 

The boat is now moored in West Vancouver at Mosquito Creek Marina. Evidently it is owned by a Native Tribe and the team has lined up some native artists to paint a totem pole on the old Mainsail right overtop of the Aligmouss logo that Derek had on it.  Not sure if this will happen because it's hard to find a big open space to paint but they are working on it.

As we sailed through the harbour yesterday we heard lots of people on the VHF talking about the boat.  There is quite some excitement here.