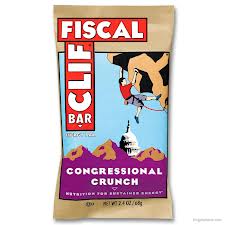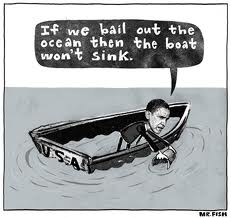 Unable to run for another term in 2016, President Obama has decided to throw in the towel on politics before the next US Presidential elections and join his former adversary Mitt Romney, in the 2016 Vendee Globe Ocean Race. There is even talk that the two US politicians will team up to sail the Barcelona World Race together - a double-handed warm up for the single-handed Vendee Globe. Insiders report that if they can come to an agreement about who will be skipper their boat will be named End of Days and sport a 4 horse motif on the spinnaker.
With Obama's announcement today of his plans for the 2016 Vendee Globe, he also announced his first corporate sponsor - Clif Bar & Company. They will be producing a special energy bar from Mr. Obama's Vendee Globe Campaign to be called the Fiscal Clif Bar. It is a special combination of nuts and fudge. The irony of the contents of this special new energy bar and the "crazy shit" going on in US politics these days was not lost on President Obama. After his first taste of the Fiscal Clif Bar at the press conference, he is reported to have said, "It looks delicious but it leaves a bad taste in your mouth. After 4 years as President I should have no trouble surviving on these things at sea for 3 months. I've survived a bad taste in my mouth for a lot longer than 3 months. "
During an interview President Obama, acknowledged that the Vendee Globe Ocean Race had been on his bucket list since he was a small boy and watched the sail boats arrive in Hawaii after the Transpac Ocean Race. With coverage of this year's edition of the Vendee trending on the internet and especially his favourite sailing website - Sailing Anarchy - he decided that it was time to get serious about making it happen.
Obama's new boat is being designed by Juan Kouyoumdjian. Known for his powerful designs, Juan K will again pushed the limits of technology for Obama's new boat, which is to be named Hope Floats. Amongst the design features it will feature 8 massive 12 inch bilge pumps. In the words of the designer, "The design and effectiveness of these pumps will allow the skipper to bail this boat out at a formerly inconceivable rate. This boat should be able to stay afloat with a hole in it that you could drive a truck through and I mean one of those big American trucks not some little European or Asian compact truck - we're talking Dodge Ram or Ford F 150."
The other key piece of technology will be a modified grinding pedestal that works more like a stationary bike than a traditional grinder. It features 2 gears in forward and 6 in reverse. The specialized grinder was designed specially for President Obama who found his strength was greater in back pedalling. Insiders for the Romney Vendee Globe Campaign have apparently expressed interest purchasing a similar grinder for Mr. Romney's boat.
Now if anyone thinks this is serious - give your head a shake and go watch the documentary film about the 2008 edition of the Vendee Globe Ocean Race at:http://www.sailingaroundtheworld.tv
The above blog was loosely inspired by current events in 2012 and by the three most over used expressions in 2012 - "Trending", "Bucket List" and "Fiscal Clif". I also wanted to be clear that this blog is in no way some kind of neo liberal, partisan effort in support of left wing politics as I was accused of after the article about Mitt Romney.
Happy New Year from Wind Athletes Canada!